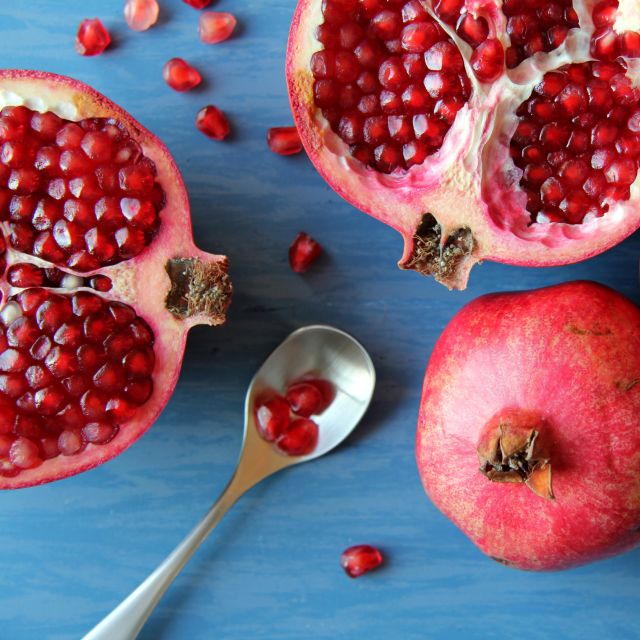 Fresh Pomegranate arils
Peeled from the fruit and ready for direct consumption pomegranate arils are packed in cups in  different sizes: from 50 grams to 250 grams net, or in loose film bags for the industry applications (Horeca): 0.5kg, 1kg or 3kg. Ultrafresh product – expiration date from the date of delivery in Poland – 12 days. Country of origin: India.
Best use as: an independent healthy snack, addition to salads, cakes, meats and soups.
Do you know that?
Pomegranate arils provide large amounts of antioxidants and have low glycemic index (35), are a good source of not only dietary fiber, but also vitamins from group B: B1, B2, B5 (pantothenic acid), B6, B9 (folic acid), vitamin C, E and K, as well as minerals: potassium, phosphorus, zinc, copper, manganese, magnesium.
Research shows that pomegranate fruits (and fresh unpasteurized juice squeezed out of them) strengthen immunity and support the treatment of infection, help in wound healing, reduce the level of bad cholesterol in blood, keep blood glucose levels constant, are a source of easily absorbed energy, they lower blood pressure and support the heart, rejuvenate the skin, improve its color and firmness, act diuretic and support the detoxification of the body, have anti-cancer properties, slow down the aging process. Drinking pomegranate juice also slows down arteriosclerosis, pomegranates support digestion. The pomegranate is also a source of phytohormones, thanks to which it relieves the unpleasant symptoms of menopause and premenstrual tension; pomegranate juice counteracts impotence to some extent and protects against prostate cancer.